I am writing this almost a  month after Gabby has passed. I wanted to start it from the beginning but there was too much going on in my house to do everything I wanted.
We are heartbroken. She will be forever missed. But so you know before hand, she did very well and was very happy always.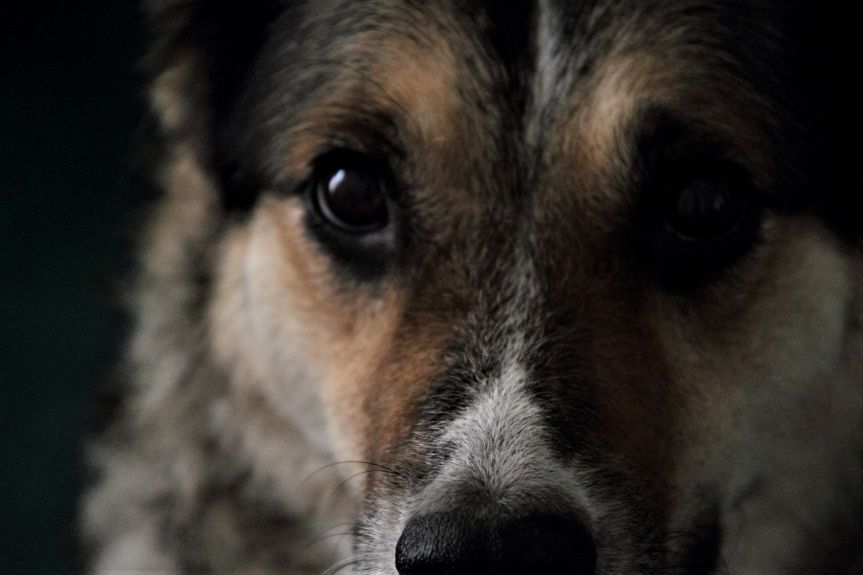 Gabby, started limping in August, 2017. The vet thought it was her knee. They did take xrays and decided to retake in a month because of shading on her upper thigh. We took them again a month later and the shading was still there but had not changed. We continue treating her knee with Chinese meds and Devcor. Sometimes she seemed to be getting better but anytime they manipulated her knee it got worse so it really seemed like a knee thing. Her Chiropractor thought it was coming from up high on her leg and not the knee. Probably where the shading was.
Months later, Nov, she was going down a couple of stairs outside on a leash and twisted and broke her leg. It was osteosarcoma, the shading and where her leg broke. The choice was euthanasia or amputate. Despite her being almost 14, she never seemed like she was aging any so the only option for us was amputate.
Her leg was amputated on Nov 20th. The surgery went well and after a day in the hospital, she game home with a drainage tube which we were supposed to drain and measure until our next visit a week later. What they didn't tell us was that it could clog! Thanks to Google, we found that out about the clogging how to unclog it. The first couple of days she recovered slowly but she did get better each day, regaining her strength. No issues at all.
She came home wearing this blue thing to keep the drainage tube in place. She is laying on it. Goes to show, no pain.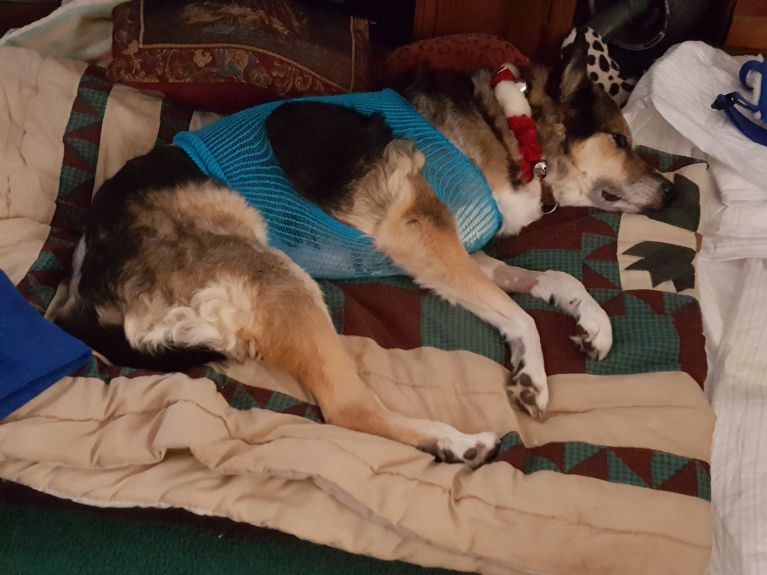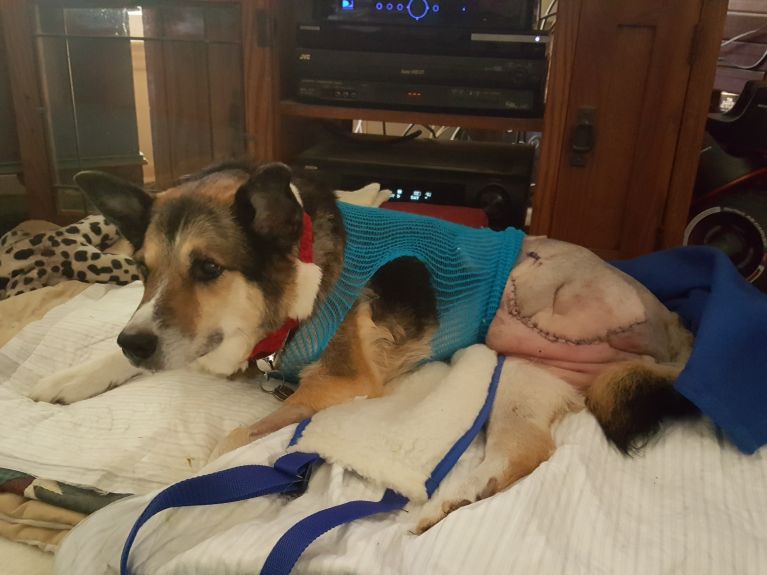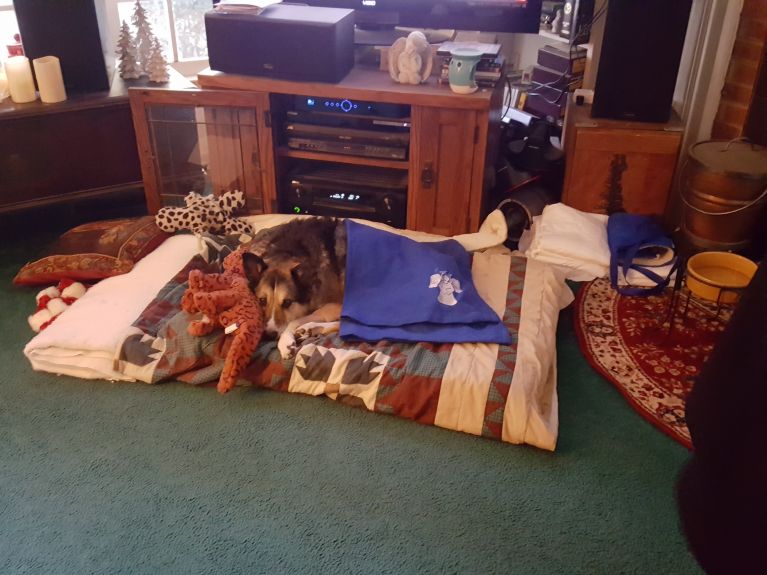 Our next visit the tube was removed and she continued healing. We decided not to do chemo at that time because of the drive and her hating to be in the car and because we had another dog years ago that had IV chemo and it was rough so we did not want to put her through it at 14 and having the stress of driving 45 mins there and back. It certainly seemed that chemo or no chemo had the same or too similar a prognosis.
We decided to use Dr Loops for homeopath and Chinese meds from our vet. We were always careful with her diet but got even more careful. She always ate raw food from Primal with a hand full of Taste of the Wild dry, a tablespoon of Greek yogurt, 2 pumps of fish oil, 1/2 tsp Golden Paste & Honest Kitchen Bone Broth.  I eliminated the dry dog food, added more raw to hide the additional pills and make up for the loss of dry food. She loved everything she ate and was doing well.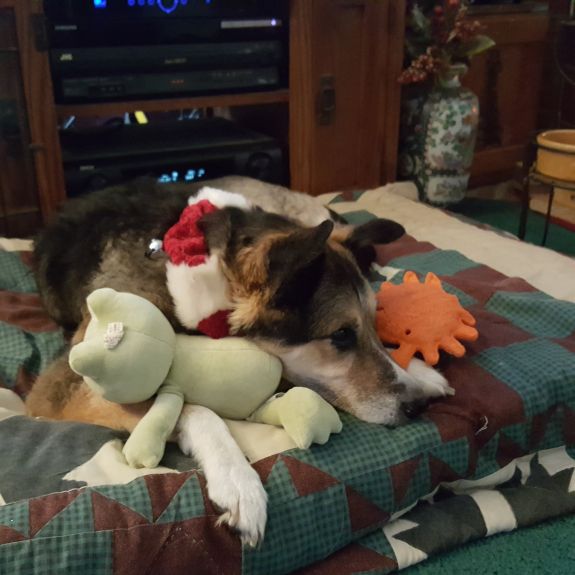 Here is a list of what we were giving her. Keep in mind some of it started before the additional Chinese meds for her knee and Homeopath which I make note of:
Jing Tang Body Soar –  1 pill 3x a day  (approx 2 grams) (started early)
Jing Tang Ligament Concentrate –  1 pill 3x a day (started early)
Jing Tang Bone Stasis Concentrate Formula – 1 pill 3x a day
Jing Tang wei qi. 2 pills 2x a day
Vetri Science Devcor – 2 a day (started early)
Vetri Science SAMe – 2 a day (started early)
Bio Dent by Standard Process – 2 twice a day (started early, for her teeth)
NaturPet VitaPet Senior w/glucosamine – 2 twice a day (started early)
Grizzly Salmon Oil – 2 pumps twice a day (started early)
Golden Paste – (Turmeric, coconut oil, cinnamon, pepper) about1 teaspoon twice a day (started early) (we, humans, still take this for inflammation and arthritis)
Honest Kitchen Bone Broth – about 3 tbsps in food 3x a day
Life Gold- 2 eye droppers a day.
Milk Thistle: 6 drops 2x a day
K9Medicinal: attached pdf  4 a day
Homepathic:
Sulfer
Hecla Lava
Carcinoma
Her energy increased with the Homepathic remedies and for 2.5 months, she was doing really well. We never let her outside without the help of a butt harness or wheels. We were so afraid that with her age the good leg would blow out. She ran my husband all over the place with the harness.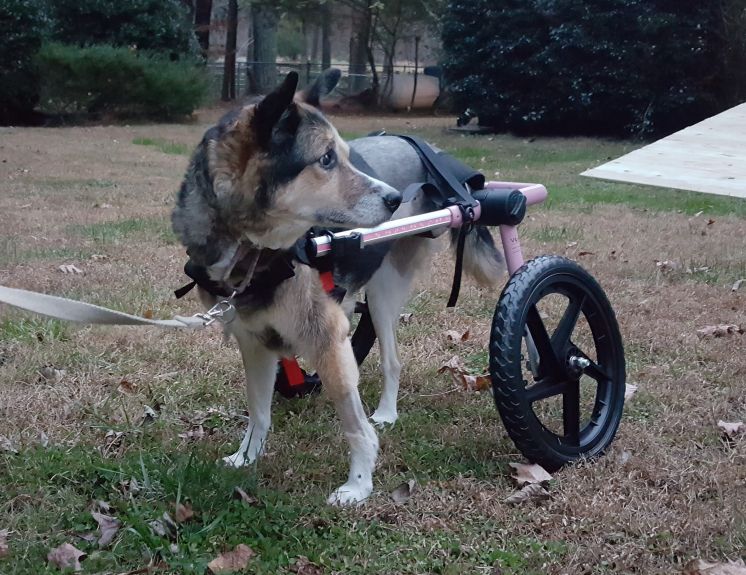 She started loosing energy and at one point collapsed. The acupuncturist thinks it may have been a small seizure. We never did find out exactly what caused this. On Feb 23rd she went for xrays and it showed in her lungs that the cancer returned. First, we also contacted Dr Loops who sent Kali Carbonicum for her lungs which seemed to help immediately. She hardly ever coughed. We had an appt with an oncologist for March 5th. When they took xrays, they found the cancer also showed in one vertebra and maybe a tumor in her abdomen. We had a lot more to deal with than lung cancer. And she had become anemic. Her blood was 25%.
We started metronomic chemo on March 6th which meant we were to alternate Palladia and Cytoxan every other day. Cytoxan was started on Friday because they had to mail it to us.  We told Dr Loops about the anemia and he sent something else (Ferrum something?) for the anemia. The oncologist also gave us a Chinese medicine, Yunnan Baiyao which has a very interesting history, to stop any bleeding in her lungs and elsewhere since they believed she may have a tumor in her abdomen that may be taking blood.
She started off not doing badly. Not great like after the amputation but she kept eating really well and her energy came and went. Before her She had a 2 week recheck with the oncologist and the anemia was not any worse. Her breathing had changed slightly but she was not gasping for air or anything like that. We decided to stop the Cytoxan because it seemed to make her weak and we wanted her to feel good and we were concerned about the anemia. The Palladia did not seem to have that effect so kept giving that one every other day.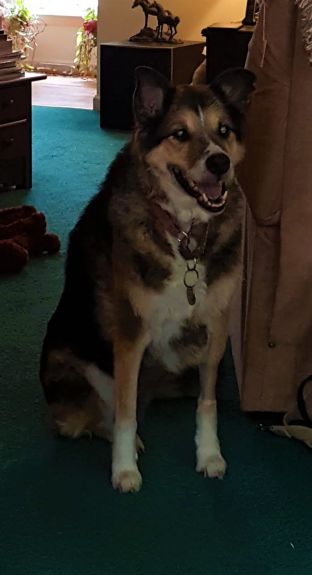 Here she is wanting my breakfast.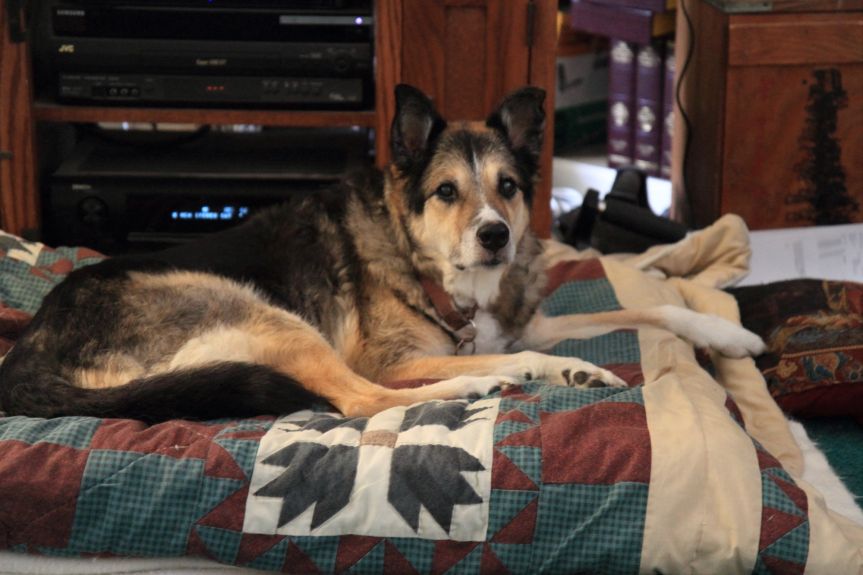 This picture was taken March 21st. She usually always laid on the missing leg/hip.
Unfortunately she did not make her next 2 week recheck. A week earlier on Sunday, she started having diarrhea again. She had it the first week as well and had to go on antibiotics. This time we were able to get it back to normal within 1 or 2 days but her energy did not return like in the past. We were going to have her blood checked on Thursday, March 29th, but that morning she did not want to eat and was very weak. That was the first time she ever refused food. The day before she started drinking more and more water. We could here the fluid in her abdomen and she was not urinating not even close to what she was drinking which continued on Thursday morning. We decided to take her straight to the vet hospital to see her oncologist.
Her oxygen was at 92%, her blood was at 19%. It should be at least 40%. The vet said that if we took her home and she survived the evening, she would feel awful. There was nothing they could do to help and anything they suggested would keep her in the hospital with no real potential for a cure or good prognosis. We did not want her to feel any worse or leave her alone in a hospital knowing she probably would never come home. We decided it was time to say goodbye. 🙁